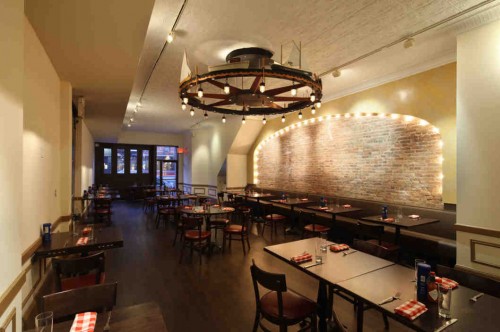 The recent history of Park Slope's Fifth Avenue swirled through my mind while dining at the Grand Central Oyster Bar Brooklyn at 256 Fifth Avenue.
Cucina was one of the first to occupy 256. It was, at one time, Park Slope's only fancy, special occasion restaurant. When they closed, the space, which is three commercial spaces wide, became Tempo and then Fornino, a highly rated gourmet pizza restaurant with tons of cred that still couldn't make a success of that enormous space.
Around 2008, there was talk of an Asian fusion restaurant with the owners of Stone Park Cafe. But that never came to pass, I'm guessing, due to a recession that briefly kicked Brooklyn's butt.
Then, Grand Central Oyster Bar, the New York institution on the lower level of Grand Central Station, decided to drop anchor in Park Slope. What? It seemed such an intriguing if strange idea?  How could the Oyster Bar make sense in Park Slope?
I was familiar with the Oyster Bar from the days my father worked in the Pan Am building and we'd meet for an elegant and quick lunch at the Oyster where we'd have clam chowder at the counter. What fun that was.
Grand Central Oyster Bar Brooklyn (GCOBB) opened its doors in December 2013. Interestingly enough, the original Oyster Bar first opened its doors in 1913 almost exactly 100 years before. Seems that the Brooklyn Oyster Bar is some sort of franchise. Here from their website an interesting quote from Jerome Brody, Founder of Grand Central Oyster Bar & Franchising:
In 1974, when I was approached by the New York Metropolitan Transit Authority to take it over, the old restaurant had been bankrupt and empty for two years, having become in its last days not much more than a sad, old coffee shop.

To prepare for the decision, my wife and I toured the best-known seafood restaurants in Manhattan, Brooklyn, New Jersey, and the rest of the metropolitan area, and they were invariably full--even when the cuisine was ordinary. This is why I decided to take a chance--the same kind of chance I had taken with restaurants such as the Forum of The Twelve Caesars, the Rainbow Room, the Four Seasons, and Gallagher's. And so, in 1974, I entered into a lease with the MTA, and embarked on inventing the Grand Central Oyster Bar & Restaurant.
According to Michael Slimmer, General Manager and a self-described Oyster Bar geek, GCOBB joins franchises in Newark, New Jersey (at the airport) and in Japan, where it is wildly popular.
Slimmer welcomed my daughter and me warmly to the restaurant and we were seated at the white Sarrinen tables and chairs in the bar/restaurant room, which is very attractive with black walls and beautiful lighting. He explained that the big room on the south side of the restaurant is only open on weekends and for special events, including a recent baptism/circumcision. Later he showed us the marvelous chandeliers that are from the original Grand Central Oyster Bar.
The food was delicious, sizes ample. For appetizers my daughter had the crab cakes and I had the steamed clams, which reminded me of being on Block Island. The broth was delicious as were the clams.
For my main entree, I ordered the delicious Pan Seared Extra Large Diver Sea Scallops with Oregano and Buerre Blanc with Sweet Peas and Parmiggiano Reggiano Risotto, which is one of Chef Jamal Bland's specialities. It's a mouthful but a very delicious and savory dish. The scallops were large and fresh and went well with the  tastefully seasoned risotto.
My daughter ordered a medium sized lobster, which she adored.
I had a glass of Chardonnay. I believe it was the J Lohr "Riverstone" 2012 from California. Our server was delightful. A twin from the great state of Florida, he was friendly and very attentive.
I observed what people were eating at other tables and concluded that GCOBB is a perfect place to order a huge shell fish platter to share with friends—a perfect dish for a celebratory meal. It's even a place where you can go on a casual date and order lobster roll or an entree of jumbo lump  crab cakes. I just might do that next time.
And yes, there will be a next time.
GCOBB is the perfect summer restaurant. It'll make you feel like you're on vacation for a couple of delicious hours. Cape Cod, Block Island, Grand Central Station...
All aboard!
Full disclosure: We were treated to our meal by the restaurant.