By MATTHEW TAUB
Chris Roberts — Brooklyn short story writer nominated for the Pushcart Prize and author of Kindle Single "Hazy Shade of Winter" — considers himself the literary world's most ruthless critic and relentless muckraker of a padded, self-protective industry largely impervious to new and emerging writers lacking connections or arbitrary praise. But to others, he's simply a nasty, mean-spirited troll — though he vehemently disputes the title. He recently sat down with fellow aspiring, frustrated, and unpublished writer Matthew Taub, of Only the Blog Knows Brooklyn, for a few questions.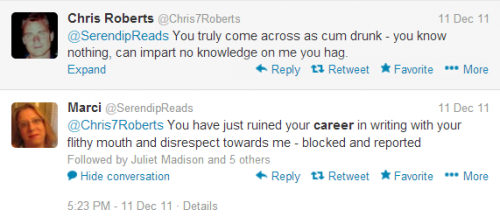 MAT: You've been been described as "the king of the one-star review" (for the long list of books others praised but which you've canned), a "mangler of English" (for your unsolicited, expletive-laden diatribes on social media), and more innocuously (but by no means less sympathetically), as an "aggressive suitor"  when seeking to have your own work accepted or promoted. How do these descriptions sit with you? Are you misunderstood? Should others should view you more kindly?
CR: It would be easy to say I am misunderstood and that is why I am not. I only really seek a reaction from my writings. Even then I make it a point not to respond to one-star reviews, it is bad form, old-fashioned or not. I find most people to be inconsequential and do not care what they think, I am truly my own man. I would rather spend time with a meth head, who is naturally inclined with more insight than ten Faulkners. And yes, I know Mr. American South is dead, it is an illustration.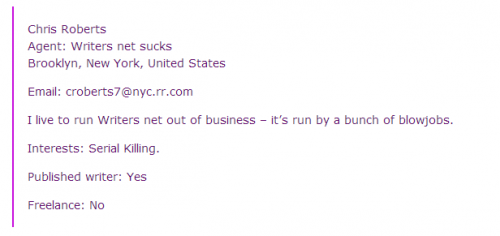 MAT: You have some published articles from several years ago (in 3:AM Magazine, e.g.) that critically lampoon The New Yorker and others as sort of a self-protective, repetitive promotion for those already in the literary stratosphere. This criticism still resonates today. For example, I read a lovely piece by Zadie Smith in the New Yorker in February, but here she is again this week, with yet another work of short fiction, while new or emerging writers essentially don't have a chance (as your 3:AM article describes). But is this really "collusion," as you insist, or simply shortsightedness? And what, if anything, should the literary big wigs do differently to cultivate new talent?
CR: Short-sighted invariably and to the detriment more for "The New Yorker" than its readership. The leadership must groan when they have to run one more story from a Franzen or others who style their work via redundancy. I can easily say that most at the New Yorker are suffering from depression, the sameness clouding their eyes. How can you not laugh at their plight?